MODIFICATIONS & INFORMATION
360 DEGREE STIPPLING

I stipple around your whole pistol frame to improve your grip on the firearm and prevent slipping due to sweat, blood, water, mud, and anything else that could hinder a secure grip. You can get stippling done in several different patterns.
Waffle Stippling: This is a made using a waffle tip. This is a quick and easy method for an improved grip.
Hammered: This looks like a series of smudged circles. Texturing is a bit more aggressive (can be made less aggressive for carry guns) to ensure a solid grip in bad conditions. It is my personal preference.

Dragon Skin: This looks a bit like layered scales and is one of my favorites. 
Fine: This is essentially a lot of tiny dots. It is more likely to soften and wear down with time which some may prefer for carrying.
---
CUT & RECESSED BORDERS

This option is only available on custom packages and are not included with economy packages. These recessed borders add a nice aesthetically pleasing & finished look around all stippled areas.

---
TRIGGER GUARD UNDERCUT

This undercut provides a extra comfort and allows the shooter to get his hand a little higher on the gun which will help in recoil management. This mod will help prevent the dreaded "Glock knuckle" that many shooters experience on stock Glocks.
---
MAGAZINE RELEASE SCALLOP

This mod is only available on Gen 1-3 Glocks. This mod removes material from around of the magazine release which helps people drop their magazines more easily without shifting their grip or mitigating how much they need to shift their grip.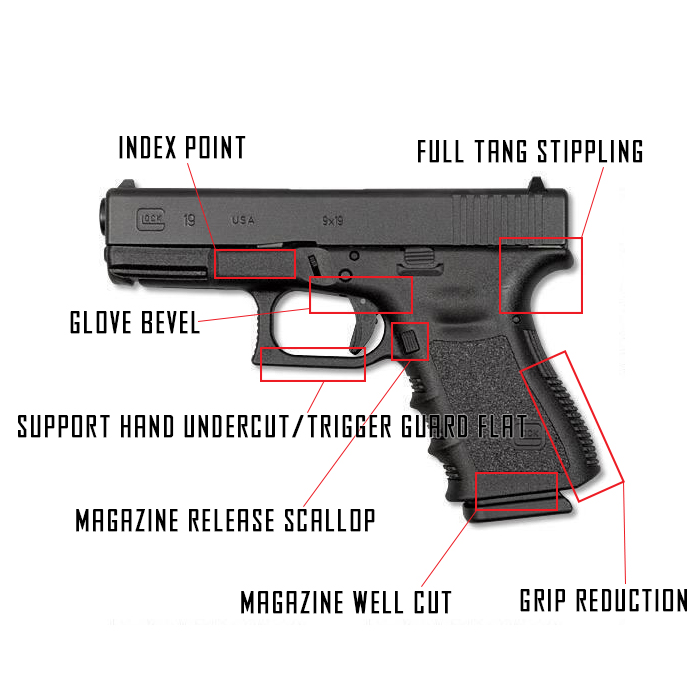 KEEP & ENHANCE FINGER GROOVES

This deepens the finger grooves and rounds out the front edges of the Glock frame. This provides a more ergonomic and comfortable grip over the factory finger grooves.
---
GRIP REDUCTION

One of the biggest complaints I hear from people is that the Glock's grip hump is uncomfortable and causes people to aim upward. I can reduce that hump and straighten out the grip without filling the grip with epoxy and shaving it down. This modification helps increase the comfort of the grip for some and can also help prevents the upward shift in aim some people experience. *PLEASE NOTE* You cannot use magazine wells on your Glock after this modification is done. If you run a magazine well on your Glock then opt out of this modification.

---
COMBAT CUT AKA MAGAZINE WELL CUT

This modification makes the removal of stuck magazines much easier. This is a great mod that will provide shooters with the ability to get a firm grip on their magazines and quickly strip magazines that are stuck due to jams or debris.
---
FULL TANG STIPPLING

Normally, I stop stippling the grip so that the web of the thumb does not make contact. However, with full tang stippling, I will stipple up almost to the top of the tang. If your hands are on the sensitive side this may not be a good choice. If you do have sensitive hands, but want this modification anyway, I can sand down the stippling to make it more gentle on your hands while still providing a better grip.
---
STIPPLING ON THE TRIGGER GUARD FLAT

I will stipple the trigger guard flat to provide an indexing point for your support hand. It will also help keep your support hand from slipping up on the trigger guard.
---
SUPPORT HAND TRIGGER GUARD UNDERCUT

This creates a notch in the flat area of the trigger guard to help get your support hand slightly higher. The notch also helps prevents the support hand from slipping forward past the trigger guard.

---
STIPPLED INDEX POINTS

For people who use a thumb forward grip on their pistol this mod is great. This will add stippled points forward of the slide lock that you can rest your thumbs on and help keep your thumbs from sliding off the frame due to recoil.
---
GLOVE BEVEL

This will open up the trigger guard and recesses the area just behind the trigger. This will more room for people who shoot with gloves. For people who have shorter and fatter fingers, it can also grant them easier access to the trigger.